Hope everybody had a fun and safe New Year's welcome.
Don't know what I was thinking, but I ended up on the race team for mtnbikeriders.com for 2014.  A great site run by some fun cool dudes.  Had plans to hit the majority of the Big Mountain Enduro schedule – that is, until they released the schedule:
June 21-22: Snowmass
June 28-29: TBD in Colorado
July 12-13: Keystone
August 23: Moab
Sept TBD: Crested Butte
So looks like I'll pick 1 or 2 spaced apart and try to hit them.  Hoping they're doing Durango again, and we'll see if I can gain entry to Moab.  They also announced a 5-day back country enduro that sounds interesting, first weekend of September.  Check out Mountain Flyer Mag for info:  5 Day Back Country Enduro!
Of course, it's January.  I'm in probably the worst shape I've been in my entire life, but I have a plan.  We'll see how it all shakes as the year progresses.  Hoping to hit a race or two in Southridge/Fontanna next month, and maybe one of the races at Bootleg.  In a perfect world anyhow…
—–
Most everyone has heard of the SRAM 42 tooth drive train, and how much it costs.  At this point, I think they are priced way out of the average rider's budget.  That is, if one is looking for a 1x drivetrain with a climbable gear range in the back.  Sure, stronger riders can get away with the standard 11-36 option, and others like myself can struggle and try to get used to it for the steeps.  Recently another option hit the market – a single rear cog designed to be added behind the 36t.  The product is made by One-Up Components, and Pinkbike has just posted a review: Oneup Components 42-tooth Cog for Ten-Speed Cassettes – Reviewed
The only really drawback – it's retails for $100 at Oneup's webstore, HERE.   But when you compare it to the cost of the SRAM option, then it's not really such a difficult pill to swallow.  It looks like it's machined well, should last as good ad as any other cog in your line up, and will help get you to the top while possibly saving some knee stress AND keeping your handlebar neat and tidy.
Still… $100?
I found another option on ebay this evening.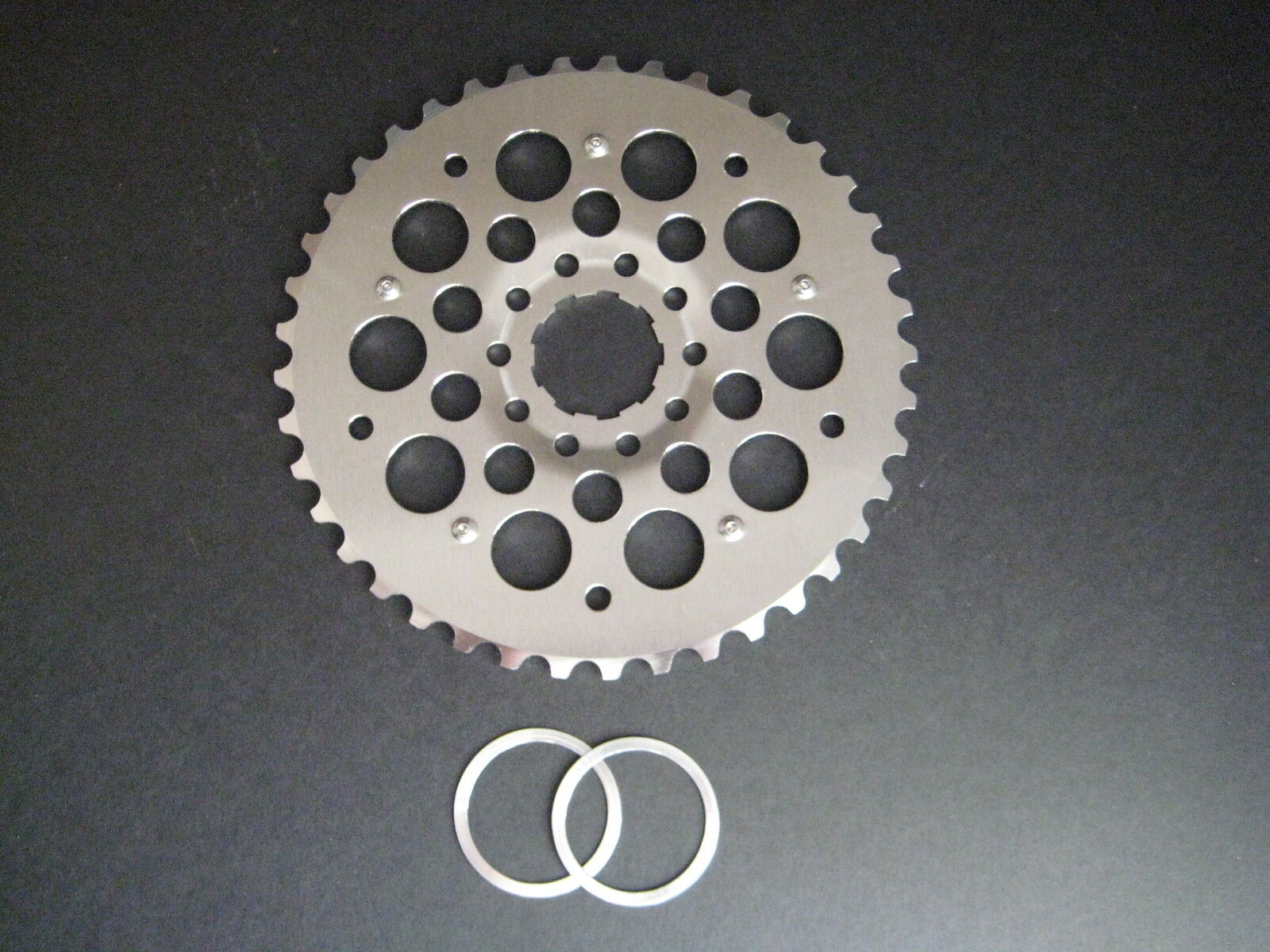 While it has a keen, clean CNC'd appearance, it lacks the ramping present on the Oneup cog.  However, this one is going for significantly less – $39.27, plus $3.77 shipping.  So about less than half the cost of the Oneup option.  It is 1 tooth shy of the competitor, but for $50 less, it's probably not that big an issue.  The seller also makes 36 & 38 options.
From the product description:
41 tooth stainless steel rear cog for use with Shimano and SRAM cassettes. This is a custom made cog designed to fit behind 8, 9 or 10 speed, 5 arm or flat cog rear cassettes. CNC cut for a very precise fit at the spline. Compatible with modern Shimano and SRAM 8, 9 or 10 speed cassettes and driveshells. Simple bolt on installation with existing components and minor adjustments. No cutting, grinding or drilling. Instructions and spacers are included.  It has been tested with Sram and Shimano high and low normal, long and short caged, derailleurs.
  Installation requires the removal of one of the smaller ( higher gear ) cogs. This can result in a minor ratio gap due to a larger than normal tooth differential. This can be avoided easily by replacing your first position cog with a 13 or 14t cog.  I have both available in another listing.
  If you have ever been climbing in your lowest gear combination and reached for one lower gear you will understand why I made this cog. I find that I use it quite a bit with the middle ring as well, I like the extended range in the middle ring. This can also be a good addition for 29ers, 1 and 2 front ring systems. I have 36t, and 38t cogs available in another listing.
I ordered one this evening, should be here next Monday.  I'll give my impressions here as soon as its out of the box.